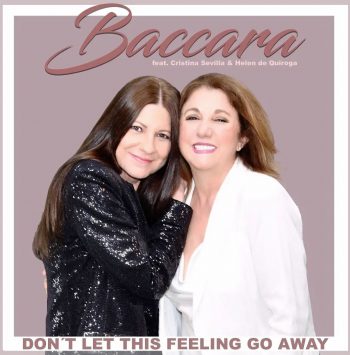 SPANISH POP ICONS BACCARA RETURN WITH EURODISCO BANGER 'DON'T LET THIS FEELING GO AWAY'
Don't let this feeling go away, I want to hold you night and day, This time I see my dreams come true my love…" Spanish pop legends Baccara sing on the chorus of their latest single Don't Let This Feeling Go Away. The pop duo now comprised of Cristina Sevilla and Helen de Quiroga deliver powerhouse electronic disco beats and high energy fun on the latest single, a spirit also channelled in the track's accompanying video.
Complete with disco ball effects, pulsing neons and glittered costumes, Baccara capture the magic of their best hits in the joyous, euphoric new dance anthem. The new track is a collaboration from producers and songwriters Philippe Escaño and Luis Rodriguez.
Baccara's most recent album was 2018's I Belong to Your Heart created by the line-up of the late María Mendiola and Cristina Sevilla. It is not known yet if Don't Let This Feeling Go Away will be the beginning of a new Baccara album from Cristina and Helen – we certainly hope it is.